As Çelebi Aviation Holding, we are dedicated to providing excellent ground handling services along with our ancillary products.

Çelebi stepped into the aviation industry with the establishment of Çelebi Ground Handling in 1958 as Turkey's first privately-owned ground handling services company. Today, it stands out as one of the most successful examples of integrated services in the Turkish Civil Aviation industry offering Ramp, Passenger, Cargo Handling, Warehouse Management, Bridge Operations, Trucking, General Aviation, Airport Lounge Management and Premium Services.

With over 13.000 dedicated employees, Çelebi continues to operate on 3 continents, in 5 countries and more than 40 stations. Our ambition is to expand our geographic coverage into more developing markets, while providing rewarding employment oportunities to a growing family of colleagues around the world and meeting service needs of our partners.
Milestones
Foundation of Çelebi Ground Handling One Ladder Five Workers
Çelebi Ground Handling listed in Istanbul Stock Exchange
Terminal operations begin in Antalya Airport, with a building period of 11 months, under the term of BOT
Çelebi Ground Handling Hungary Ltd.
Çelebi NAS Airport Services India Pvt. Ltd. (Mumbai)
Çelebi Delhi Cargo Terminal Management India Pvt. Ltd.
Çelebi Ground Handling Delhi Pvt. Ltd.
Çelebi Cargo Gmbh (Frankfurt)
Acquisitions of Austroport in Vienna and Aviapartner Cargo in Frankfurt
India Cochin Airport Kannur Airport Bangalore Airport Hyderabad Airport
Our Mission
To be a global solution partner who creates value for stakeholders by throughly understanding the needs of airport users and ensuring consistent service quality.
Our Vision
Becoming the most admired/recognised global service provider for customers and employees.
Our Values
SERVICE EXCELLENCE
CUSTOMER CENTRIC
SAFETY FOCUSED
ENTREPRENEURIAL
INNOVATIVE
Pre-Covid Figures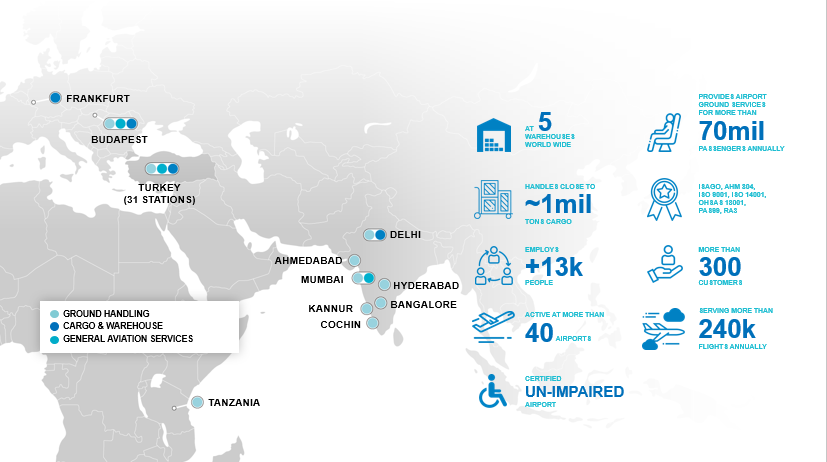 Quality and Safety
Dedicated to the quality of our services at all times.
International Certificates
|   | ISAGO | ISO9001 | ISO14001 | OHSAS18001 | RA3 |
| --- | --- | --- | --- | --- | --- |
| Turkey | ✓ | ✓ | ✓ | ✓ | ✓ |
| Frankfurt | - | ✓ | ✓ | ✓ | - |
| Hungary | ✓ | ✓ | ✓ | ✓ | ✓ |
| India Ground Handling | ✓ | ✓ | ✓ | ✓ | ✓ |
| Delhi Cargo | ✓ | ✓ | ✓ | ✓ | ✓ |
| Mumbai | ✓ | ✓ | ✓ | ✓ | ✓ |
Purpose
Çelebi's approach in regards to quality is to translate the strategic intent of the group into practical applications that deliver continuous service & process standardization and increase customer satisfaction in line with Total Quality Management principles. High level customer experience management is the main objective to achieve sustainable service improvement.
Policy
Çelebi's vision in regards to quality;
Being a team that focuses on quality and customer satisfaction, adapts to innovation and adds value to its services.
Çelebi's mission in regards to quality;
Working hard to lead a dedication to the highest quality of service delivered to our customers with a sense of warmth, individual motivation, satisfaction and company spirit.
In accordance with these vision and mission, Çelebi created an internalized 'Quality and Customer Centric' corporate culture while focusing on;
Serving a unique/standardized/total quality management globally
Improving customer experience
Owning change, business transformation strategy & planning for the future
Integration and optimization projects
Latest technology usage
Singularization, simplification and consolidation
Environment, health and safety
Following total quality management principles has an essential role for Çelebi to obtain and sustain the 'Quality and Customer Centric' corporate culture:
Customer Focused
Total Employee Involvement
Process Centered
Integrated Management System
Strategic and Systematic Approach
Continual Improvement

​

Fact based decision making
Communication
Safety
Safety is our priority!
Çelebi Aviation Holding and all its subsidiaries acknowledge that the safety of its employees and environment and preventing any possible loss as goals and prioritize it over everything else. With this in mind, Çelebi continuously develops, implements and improves its processes; thus, it aims to achieve the highest level of safety performance while surpassing national / international standards.
All stages of management are responsible for achieving the highest safety performance, starting from the top management. By providing appropriate work force, equipment and financing resources, all managers support safety practices, promote effective safety reporting and communication and support safety management to actively manage safety within the framework of fair culture.
All employees' safety-related obligations and responsibilities are clearly defined along with the source of the hazards. Zero accidents are targeted based on the voluntary participation of the employees. In all our activities, work contrary to safety procedures is unacceptable.
All risks are evaluated periodically and risk mitigation activities are carried out. All employees are provided with adequate skills and training to implement safety strategies and processes.
Çelebi Aviation Holding and its subsidiaries encourage its employees to report incidents, accidents and especially near-miss reports and will reward employees who are able to prevent these potential accidents.