In addition to achieving business and operational successes, Çelebi is also committed to undertaking and carrying out meaningful and enduring projects in the area of social responsibility fulfillment as well.
Çelebi formulates its approach to social responsibility and related projects within the frame of the principle of sharing its winnings back with the society, and extends support directly or indirectly to a variety of activities, particularly in the field of education.
Continuing to invest in the future of Turkey on the basis of its comprehensive social responsibility projects to which the Company gave momentum in its 50th year (2008), Çelebi constantly increases the value it adds to the society particularly with the activities initiated in educational arena.
Social Responsibility
Erzincan University Ali Cavit Çelebioğlu School of Civil Aviation started education.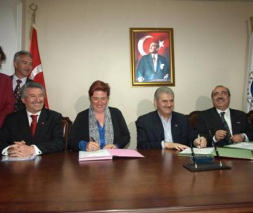 Its construction finished in September 2010, Erzincan University Ali Cavit Çelebioğlu School of Civil Aviation completed registration of students for 2010-2011 academic year on 31 August and 01 September

Students enrolled in the Department of Aviation Management will be attending a 1-year prep class for intense English training before starting their four-year undergraduate education. Since the students admitted to the prep class will be pursuing language education in the school of language situated in the city center, the official opening of the school is slated for occurrence prior to the start of 2011-2012 academic year.
Ali Cavit Çelebioğlu School of Civil Aviation inaugurated by Prime Minister Erdoğan.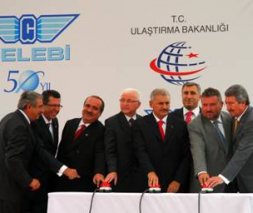 Erzincan University Ali Cavit Çelebioğlu School of Civil Aviation built by Çelebi Holding was inaugurated by Prime Minister Recep Tayyip Erdoğan during a ceremony held on March 5, the birthday of the late Ali Cavit Çelebioğlu, doyen of ground handling in Turkey. 

While attending the mass inauguration ceremony in Erzincan Republic Square, Prime Minister Recep Tayyip Erdoğan and Minister of Transport Binali Yıldırım participated in the ceremony held at Yalnızbağ Campus through a live broadcast and inaugurated Erzincan University Ali Cavit Çelebioğlu School of Civil Aviation. The ceremony led by Çelebi Holding Vice Chairperson Canan Çelebioğlu Tokgöz was also attended by a delegation from Çelebi Holding, as well as Erzincan University Rector Prof. Dr. İlyas Çapoğlu and members from the university management. The fact that the inauguration of the school named after the doyen of ground handling in Turkey was realized during his birthday was interpreted as "a momentous gift to Turkish civil aviation and education."
"I'm at Home" Project reached 36 houses.
Under the "I'm at Home" Project initiated in 2008, 2 homes in Kars has been finished the same year. In 2009, the restructuring works of 2 homes in Diyarbakır, 2 homes in Erzurum, 3 homes in Erzincan, and 1 home in Mardin have been terminated and total number of finished homes reached to ten. During 2010, 2 homes in Hatay, 2 homes in Kahramanmaraş, 3 homes in Malatya, 3 homes in Osmaniye and during 2011, 3 homes in Van and 3 homes in Erzurum have been completed and the number of delivered houses reached to twenty six. Plans are to complete fifty of these homes by 2013.
Stationary supply donations by Çelebi within the scope of "I'm at Home" Project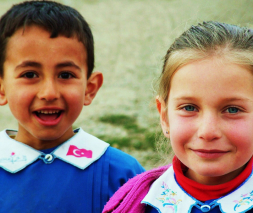 After the completion of 36 teachers' lodgings, Çelebi donated stationery supplies on September 2011 to 2,000 students attending these primary schools for 2011-2012 academic year.
Social Responsibility
Environment-friendly service production
Çelebi goal is to be an organization whose practices make it the most environmentally sensitive company in the aviation industry through an approach that safeguards and enhances the quality of life of its employees and customers.
Çelebi has an environment management system (EMS) which has been developed in order to systematically reduce or eliminate the harm that is or may be caused to the environment. The company's EMS aims at identifying environmental factors and at controlling such factors in order to minimize their environmental impact and to improve environmental performance during all the stages from the design of services to their presentation to the customers.
The environment management system has been awarded ISO 14001:2004 certification at headquarters offices and at the İzmir station by the firm of Bureau Veritas. With this certification, Çelebi declares that it will:
carry out programs to minimize its waste and achieve compliance with laws and regulations,
carry out programs to minimize resource use,
coordinate efforts aimed at more environment-friendly production.
Aware of the need and responsibility on the part of people to use the natural resources they require to maintain a good way of life in a renewable way, which is to say mindfully of future generations as well, Çelebi engages in the following activities to achieve optimum use of natural resources and to minimize pollution.
Every year it has its exhaust gas emissions regularly analyzed by an accredited organization.
It has drinking water treated and has periodic analyses performed on water samples.
In order to achieve more effective use of natural resources, waste at Çelebi is sorted and the recyclable elements (paper, plastic, etc) are regularly collected. Photocell systems have been installed at some stations to reduce water and electricity consumption.
Waste oil (hydraulic oil etc) from technical workshops is eliminated by sending it to facilities where it is specially burned.
Hazardous wastes produced as a result of our activities are shipped to establishments licensed by the Ministry of Environment and Forestry for disposal.
Specialized equipment (battery-powered forklifts etc) that does not cause emissions is used.
Waste created at Çelebi business units is surrendered to organizations licensed by the Ministry of Environment and Forestry for elimination/recycling. A waste inventory is conducted in order to determine the company's environmental performance every year and the company sends its "Environmental Performance Reports" to concerned agencies and organizations. During 2009, 13,765 liters of waste oil, 7,514 kilograms waste batteries, 453 kilograms waste filters were eliminated by surrendering to licensed organizations.
In the conduct of its new equipment procurements, Çelebi Group company Çelebi Ground Handling only purchases items that satisfy European Union environmental norms. The company also complies fully with EU noise and environmental pollution prevention standards.
Another example of Çelebi efforts on behalf of the environment is to be seen in its replanting of a section of the Dalaman forest which had been destroyed by fire. In the course of work that began in late 2007 and was completed in early 2008, more than 100,000 saplings were planted on 50,000 m² of land that had been ravaged by the conflagration.
Support to Turkish Civil Aviation

One of the most deeply-rooted companies in the civil aviation industry that has lately been scene to major developments in Turkey and across the world, Çelebi places special importance on supporting civil aviation so that the industry becomes widely recognized across the country and gains access to qualified human resource.
Conducting various projects in this department, Çelebi took the first concrete step and established cooperation with the Ministry of Transport and Erzincan University in an effort to support civil aviation that requires advanced technology and qualified personnel. Within the scope of the collaboration, the project has been launched to set up a School of Civil Aviation under the university.
The protocol executed on 10 May 2008 by Çelebi Holding, Erzincan University and the Ministry of Transport covers the construction and development of the School of Civil Aviation, and cooperation between the parties in the execution of the training and education process.
Erzincan School of Civil Aviation will offer the curriculum mostly in English and the students will receive an education that matches the world's top aviation schools. Upon graduation, they will have the opportunity to take up jobs principally at Çelebi, as well as many aviation companies based in and out of Turkey.
Under the project, a 30-classroom school building set on a floor area of 4,000 sqm with a covered area of 15,000 sqm and a capacity of 1,500 students is being constructed with Çelebi Holding's investment worth approximately USD 9 million.
Its construction finished in September 2010, Erzincan University Ali Cavit Çelebioğlu School of Civil Aviation started education on 2010-2011 academic year.
"Change One Thing, Change Everything"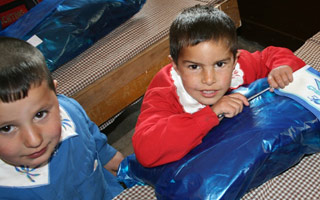 Working with the hope of a bright and powerful Turkey, Çelebi believes that a tiny gesture can lead to great changes in the future.
Under the campaign launched in 2006 by TOÇEV with the slogan "Change One Thing, Change Everything", Çelebi authored yet another special initiative in 2008 to support education.
Çelebi gave away boots and overcoats, packed specially to their names to underprivileged children attending school despite financial hardships. As of December 2008, the number of children reached under the campaign numbered 1000.
Following the construction of 20 teachers' lodgings within the scope of  "I'm at Home" Project in Diyarbakır, Erzincan, Erzurum, Hatay, Kahramanmaraş, Kars, Malatya, Mardin and Osmaniye, the Company donated stationery supplies on October 2010 to more than 1,000 students attending these primary schools for 2010-2011 academic year.
After the completion of 26 teachers' lodgings, Çelebi donated stationery supplies on September 2011 to 2,000 students attending these primary schools for 2011-2012 academic year.
In these 4 initiatives, Çelebi gives priority to the village schools where Çelebi Homes are located, thereby contributing to the sustainability of the project it has undertaken.
Çelebi's support will be unrelenting with a view to helping children grow up to be come healthy, confident individuals holding a positive look for the future.
"50 ÇELEBİ HOMES IN THE 50TH YEAR"
A major and significant social responsibility effort authored by Çelebi in 2008 is the project "I am Home" introduced with the slogan "50 Çelebi Homes in the 50th Year". Setting its hands on a task concerning education that had never been addressed in its 50th anniversary, Çelebi will provide access to improved conditions for teachers working particularly in the countryside under tough physical conditions.
Under the "I'm at Home" project, which is being carried out in collaboration with TOÇEV (Tüvana Educational Support Foundation), the Ministry of National Education and the Ministry of Transportation, the goal is to make it possible for teachers, who we entrust the future of Turkey and who educate our children, to cope with difficulties, to live under better conditions in new accommodations that have been dubbed "Çelebi Houses" with the hope and expectation that the comfort and convenience they experience at home will have a positive impact on the quality of their teaching in the classroom.
Within the scope of the project, Çelebi initiated work in 2008 to renovate the lodging allocated to the teachers of 50 village schools identified in cities located in the eastern part of the country, and to equip them with basic furniture and appliances.
In addition, the officials and technical staff of Çelebi Ground Handling Stations located in these cities will provide periodic maintenance for Çelebi Homes and fulfill the needs that will arise in time. In this way, Çelebi Homes will remain in the service of our teachers, offering them better living conditions for many more years to come.
The first step of Çelebi's widely applauded project that has set a model also for other institutions and companies came to life in 2008. In this frame, two teacher lodgings have been renovated for the elementary school in the Kara Çoban village of the city of Kars.

Under the repairing and renovation works carried out, Çelebi Homes are recreated in a healthy structure from their foundations to their roofs. Improvements are made to the interiors as well and the homes are furnished and equipped with basic necessities and appliances from sofa beds to refrigerators, TV sets to stoves. Each Çelebi Home is thus converted into a cozy home enabling the teachers to move in just taking along their personal belongings and "feel at home".
The two Çelebi Homes that represent the first completed links of the chain have been delivered to teachers working with great devotion and commitment at the furthest point of Anatolia during a ceremony held in Kara Çoban village of the city of Kars.
During the conduct of the "I'm at Home" project between 2008-2011, the number of homes completed and turned over reached thirty six. Plans are to complete fifty of these homes by 2013.