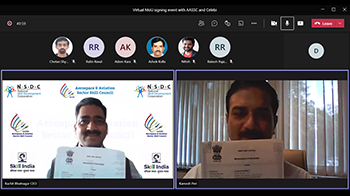 Recognition of Prior Learning: is a certification framework/program to assess the workforce who have acquired skills informally and recognize with a formal certification.
This certification will not only allow us to recognize their skills but also assist them access future opportunities in the formal ecosystem.
In order to enhance the industry acceptability of RPL certification and to extend the outreach of the scheme to large number of employers/industries across sectors, "RPL with Best-in-Class Employer" has been launched by Ministry of Skill Development & Entrepreneurship under Pradhan Mantri Kaushal Vikas Yojana (PMKVY).
Under said RPL scheme, Aerospace & Aviation Sector Skill Council (AASSC) an autonomous industry-body by National Skill Development Corporation (NSDC) and Celebi Delhi Cargo Terminal Management India Pvt Ltd have agreed and collaborated with the objective to carry out assessment and impart NSQF certification to the uncertified employees identified by employer.
Benefits to Employer:
Branding of the organization to be associated with government recognized venture and partnering in noble cause (with company logo on the certificate).
Encouraging and providing an opportunity to the employees for getting certified under National Skill Qualification Framework (NSQF) (adds value to employee engagement/satisfaction).
Benefits to Employee:
Industry relevant skill Certificate as per the latest guidelines.
Skill card
Accidental insurance to all certified candidates for 3 years
Kaushal Bima of Rs 76.70
Reward money of INR 500 through Direct Benefit Transfer (DBT) after certification.