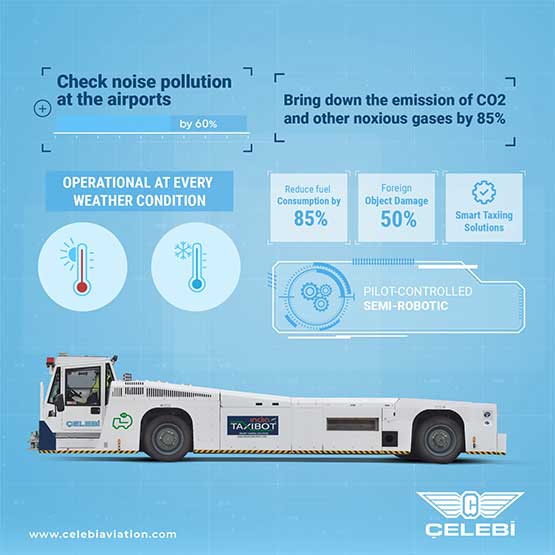 The one and only certified alternate taxiing solution Taxibot came into commercial service in 2019 for the first time in the world with Çelebi's partnership.
We are proud to announce that Taxibot is now nominated for "GSE Innovation Award" at GHI's Pride of the Ground Handling. We are excited for the award night which will be held on 1 December at a special online ceremony taking place as part of GHI's Digital Reconnect event.
TaxiBot is a pilot-controlled semi-robotic vehicle. TaxiBot tows the aircraft close to take off point without aircraft running its main engines. The aircraft/ TaxiBot combination is steered by the pilot from the cockpit. From environmental point of view, TaxiBot provides significant reduction in fuel consumption and associated CO2 emissions at the time of taxiing. TaxiBot is an all-wheel drive and steering vehicle which is available in two versions depending on the size of the aircraft to be towed for both narrow and wide body aircraft.
The pilot steers the nose landing gear with the tiller in the cockpit. The nose landing gear itself seats on a turret platform of the TaxiBot which is equipped with sensors. The sensors detect the steering angle of the nose landing gear (NLG) and steer the wheels of the TaxiBot according at the desired angle/ input from the Pilot. TaxiBot always accelerates to a predefined speed as soon as the pilot releases the main landing gear (MLG) brakes. In order to stop the TaxiBot, the pilot applies the MLG brakes and the TaxiBot reduces its speed or stops accordingly. This procedure is also monitored by the sensors on the turret platform.
Benefits of TaxiBot:
85% reduction in fuel consumption

Reduction in equivalent NOx emissions

Reduction in Noise Levels (main engines are not running at apron)

Assist in enhancement of Apron Safety by reducing ground incidents due to negligence (tripping of engineer during pushback while he is connected to aircraft using a long intercom cable)

TaxiBot In Line Steering during pushback phase provides 180-degree view to the TaxiBot Operator and Engineer, substantially enhancing wing tip clearances

Prevent deterioration of the engine life/ health as FOD can be avoided during taxiing

Assists in reducing Apron De-congestion & enhancement of asset utilization for airport operator 

Configurable Speed Matrix System for movement of TaxiBot in various apron areas; as per prescribed limits of Airport Operator

Ground time Savings