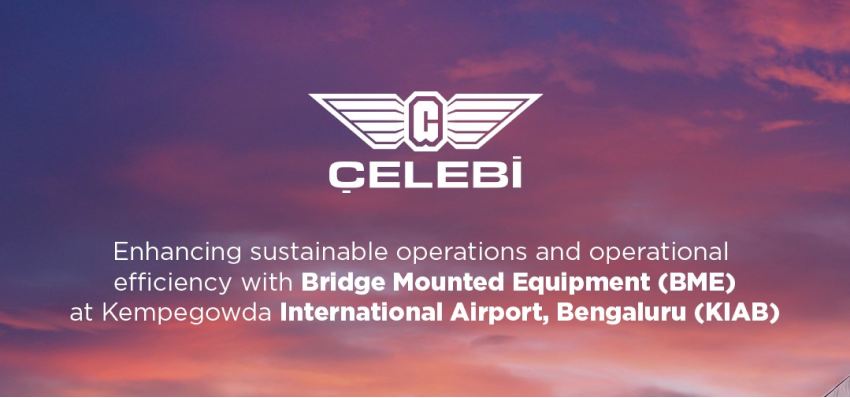 India, 29.09.2021: Celebi is delighted to announce that we have been appointed by BIAL to install and operate Bridge Mounted Equipment (BME) at all Passenger Boarding Bridges (PBB) of Terminals 1 & 2 and provide BME Services to airlines operating at Kempegowda International Airport, Bengaluru (KIAB).
BME services will be available for airlines at Terminal 1, effective January 2022 and from commencement date at Terminal 2.
Celebi will provide the "2400 Power Coil" units and "3400 Pre-conditioned Air (PCA)" units which will be installed and operating in the weeks and months to come.
With commencement of BME services, KIAB is in line with various regulatory policies such as National Green Aviation Policy (Draft), DGCA Civil Aviation Requirement (Section 10 – Aviation Environmental Protection) and guidelines issued by global bodies like ICAO & IATA that focus on reduction in carbon footprint and greenhouse gas emissions.
Benefits of BME to Airline
Bridge Mounted Equipment, which consists of external Pre-Conditioned Air (PCA) units and Fixed Electrical Ground Power (FEGP) units, runs on electric power and takes over the functions of the aircraft auxiliary power unit (APU), while the aircraft is on ground.
Key benefits of BME service to airlines are:
Reduction in APU maintenance cost.
Fuel cost saving on APU operations. 
Reduced CO2 emissions (approx. 80-85%) and noise pollution.
Efficient and safer aircraft turn-around activity.
 BME allows airlines to achieve safer, and more economical operations during ground time. Additionally, it enables airlines to benefit by use of available airport infrastructure efficiently and achieve long-term cost benefits.