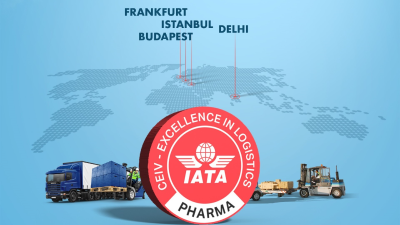 Istanbul, 06.10.2021: After achieving IATA CEIV Pharma Certification in Budapest, Frankfurt and Delhi, we are now proud to announce that Istanbul Team has also completed all audits and received CEIV Pharma Certification for cargo/warehouse operations.
As Çelebi Aviation, since the beginning of the COVID-19 pandemic, we are taking all necessary actions and make necessary implementations and developments for ensuring the safest transportation environment while the handling of medical aid, especially COVID-19 vaccines. With our enhanced facilities and ground support equipment, we are more than ready to meet all the expectations.
Çelebi Aviation's spokesperson Mrs. Funda Eraslan claimed that, "As a result of our hard work, we are proud to announce that we are now fully certified in all our cargo and warehouse stations: Budapest, Frankfurt, Delhi & Istanbul. We appreciate the efforts of all our colleagues for their great determination and hard work."
About CEIV Pharma Certification
IATA CEIV Pharma certification addresses industry's need for more Safety, Security, Compliances, and ensures national and international compliance to safeguard product integrity to its destination while addressing specific air cargo needs. The certification provides the Industry recognition to organizations and is a concerted effort to improve the level of competency, operational and technical preparedness and helps to achieve global standardization. 
About Çelebi Group
As Çelebi Aviation Holding, we provide excellent ground handling services along with our ancillary products. Çelebi established in 1958 as Turkey's first privately-owned ground handling services company. Today, it stands out as one of the most successful examples of integrated services offering Ramp, Passenger, Cargo Handling, Warehouse Management, Bridge Operations, Trucking, General Aviation, Airport Lounge Management and Premium Services. With over 10.000 dedicated employees, Çelebi continues to operate on 3 continents, in 5 countries, at 40 stations.